Lindsay Duguid has reviewed my new book Memories in this issue of The  TLS. I've posted the review below… If you like the sound of it, you  can buy a copy of the book here:
https://www.quartetbooks.co.uk/shop/memories/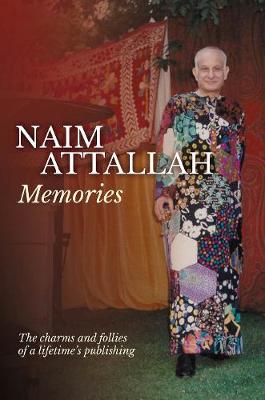 Memories, Naim Atallah's sixteenth book, is his most recent volume of  memoirs. It is a record, or a flow, of jottings and thoughts, a "pot  pourri of vignettes", set down in allusive rather than chronological  order in support of the author's belief that "It's lovely to evoke  childhood memories later on in adulthood". Recollections of his early  life and of his adventures as a bouncer and bodyguard in Soho come  late in the book, as do his melancholy teenage poems and his  evocations of married life in a small flat in Holland Park. The latter  include his morning task of carrying a half-naked girl from her  mattress on the kitchen floor to sleep in the empty marital bed after  he had left for work. As a story it is characteristic of the author in  being of its time and challenging to propriety, while also having a  sympathetic element.
The girl on the mattress is one of many young women he recalls. All  young, some titled, many "sultry". Characterized by old-fashioned  expressions such as "buxom blonde" or "impish teenager", they are  signed up and put to work in the office or at launch parties and  publicity events where they appear wearing rubber dresses or pvc  skirts. Their warm and grateful letters are reprinted here. Here too  are fond recollections of "dear friends": John le Carré, Harold Acton,  Lord Lambton, Quentin Crewe, Auberon Waugh.
A picture of 1980s London, pulsating with opportunities in celebrity  publishing, plays and films, is summoned up through parties at  Langan's and West End first nights. Slightly hazy anecdotes are backed  up by press cuttings of reviews, gossip columns, malicious newspaper  articles and his own dignified letters to editors responding to
criticisms of his publications and anti-Palestinian slurs. The idea  that notoriety brings success, though never stated, lurks behind many  of his projects from the 1984 hotel guide the Dirty Weekend Book to  the controversial Women interviews of 1987; from Melissa Sadoff's  Woman as Chameleon: Or how to be an ideal woman of 1988 to Elizabeth  Wurtzel's Prozac Nation of 1994. All reliably created a storm of
disapproval and personal invective.
The solid achievements of his publishing firms Quartet – especially  its Encounters series of novels in translation – and the Women's  Press, his support of the Literary Review and the Oldie and even his  success in bringing new designs to Asprey's, of which he was managing  director, are there to be admired, alongside the blue Rolls-Royce he
bought on impulse, the bright silk ties he favoured, his  diamond-studded Rolex and the tiger skin rugs in his office. (Oddly  for such a name-dropping book the names are sometimes garbled: Salmon  Rushdie, Lucien Freud and the Cray Twins.)
David Elliott of Quartet Books comments are as follow:
"Nice though it is to see an agreeable review in this week's TLS for Memories by Naim Attallah, the final sniffy comment on misspelt surnames might have had more impact had they spelt Attallah correctly. Glasshouses and stones come to mind."